Osceola County Stadium
1000 Bill Beck Blvd.
Kissimmee, FL 34744
March 23, 2009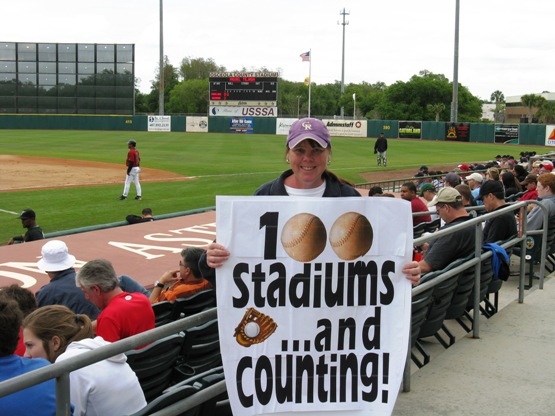 Yes, this was my 100th stadium visited. A milestone for me - an item I can check off my bucket list. And a nice stadium it is.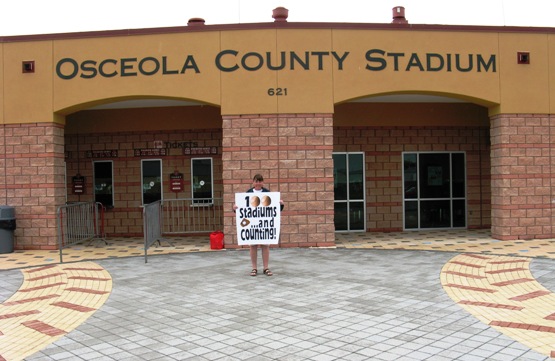 Here's me again with my poster. Thanks Alicia!
Osceola County Stadium is the spring training home of the Houston Astros. This was taken in front of the ticket booths.
I met Chris and John at this game. John does stats for the Mississippi Braves for a company in PA who then sells them to the MLB teams. Chris takes photos of the players.
I also met Amy and Michele - two young, pretty girls who seem to follow Braves players throughout their careers.



There was a short rain delay (about 30 min). I tried to capture the grounds crew taking off the tarp.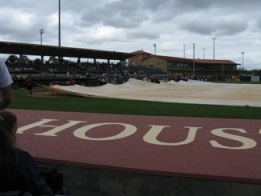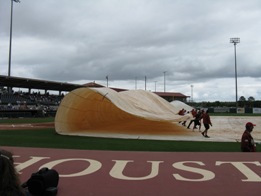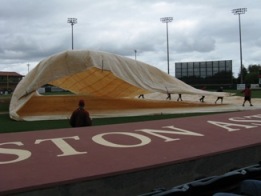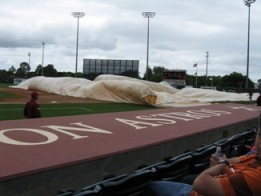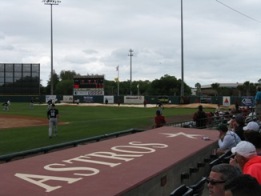 That's alot of work those individuals have to do. Kudos to them!
Things I liked about Osceola County Stadium and my visit there:

1. It was my 100th stadium
2. President George Bush Sr. was at the game
3. I saw Kaz Matsui at one game; Cory Sullivan (now playing for the Mets) at another
4. Excellent food selection. Boiled peanuts!
5. The stadium was intimate and cozy
6. Traffic getting in and out of stadium was relatively easy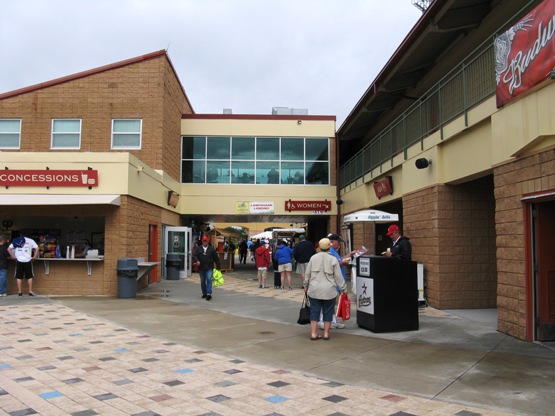 The concourse. It got quite crowded nearer to the start of the game.
Starting line ups were posted.
At one game, there was a man with a small alligator or crocodile. He was allowing fans to take photos holding the reptile. The animals snount was duck taped shut.
And there's a big 'ole Astros cowboy boot on the concourse.
The boiled peanuts and other good / different foods were on the other side of the concourse and I didn't get a photo of that side.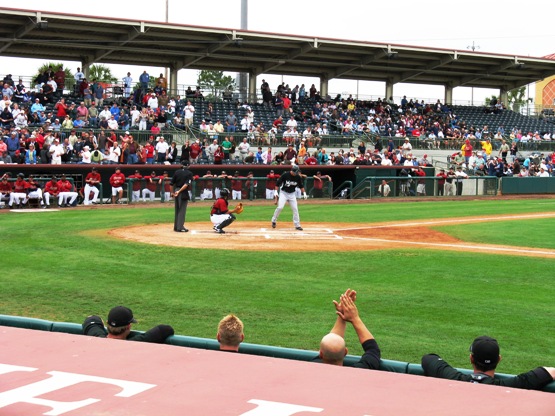 I believe this is Wes Helms at the plate. He's a former G-Brave.
This photo shows both the visitors dug out - bottom; and the home (Astro's) dug out - across the way- players wearing red jerseys.
It also gives an indication of how intimate and cozy the stadium is.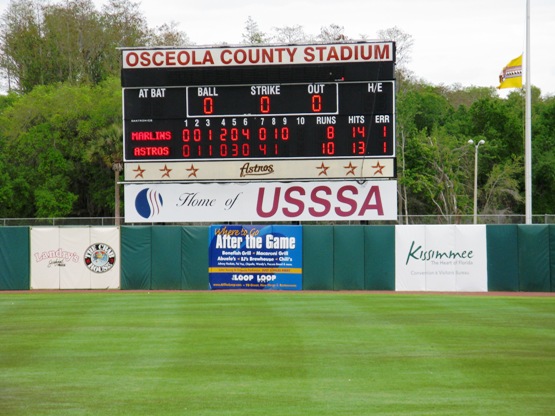 This game, the Astro's beat the Marlins 10 - 8.
Lance Berkman (Astros) had back-to-back homeruns.
And, according to my scoresheet, John Raynor was 3 for 5, Cody Ross was 3 for 4 with a homerun, and Chris Coghlan was 3 for 4 with an inside the park homerun.
It was an exciting game to watch.