Roger Dean Stadium
4751 Main Street
Jupiter, FL 33458
(561) 775-1818






Dates Visited: March 22,27,29, 2009

Customer Service: It was adequate. The vendors roaming the stands selling their goods were a bit annoying. Two yelled at each other and they didn't know how to sit or kneel down when serving fans in front of me. The gentleman in the team store was superb. He made me feel welcome.

Announcer/Music Level: It was fine. I still wonder why stadiums play music when announcing player changes.

Ease of getting in/out of stadium: Excellent.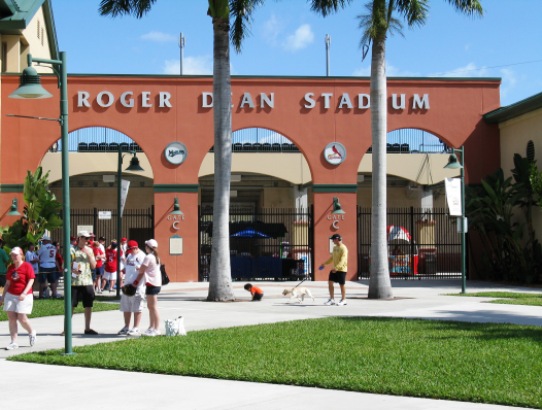 Roger Dean Stadium hosts both the Marlins and the Cardinals for spring training activities. The Jupiter Hammerheads (Florida State League) also play here.

The stadium is adjacent to Abacoa Town Center. The Abacoa Town Center is several blocks of shopping and dining pleasure. Palm trees adorn the outside of the stadium.

In this photo you can see the Marlins and Cardinals logos on the columns next to the center gate. Folks are walking their dogs and just enjoying the Florida weather in March.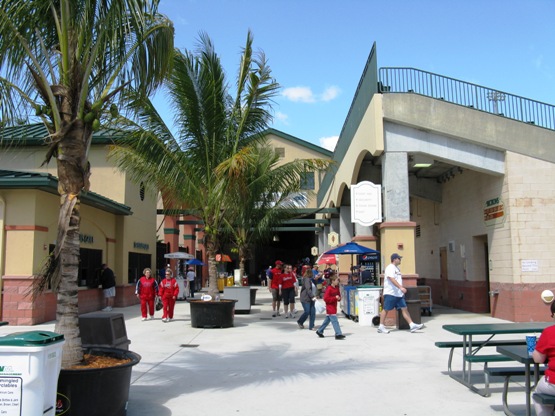 Here's the concourse.
Palm trees also decorate this area.
Food selection was your typical ballpark fare.
Nothing out of the ordinary.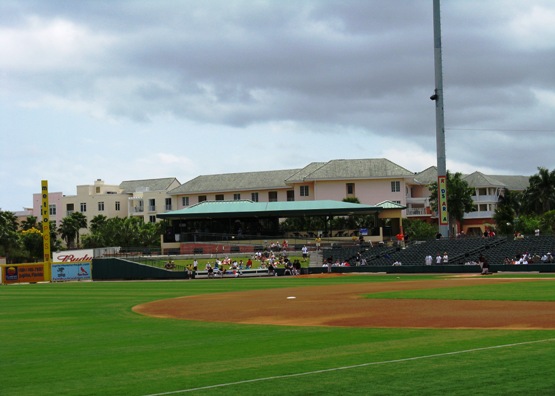 This was taken from the left field side of the field.
It shows a picnic area beyond the first base line as well as the lawn seating area.
It also shows apartments/condominiums right beyond the stadium.
These condos are probably a part of the Abacoa Town Center.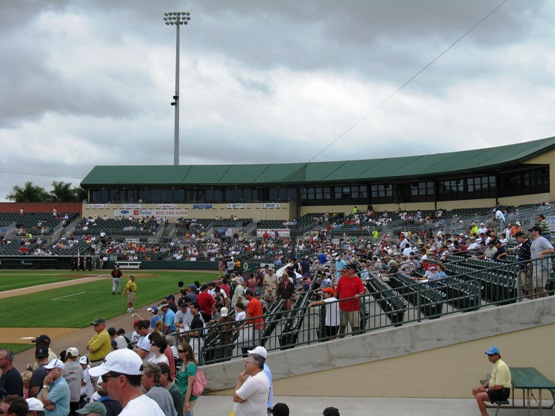 For whatever reason, long forgotten by me, I ordered seats in the bleacher section. It may have been because I thought Joe Nelson still pitched for the Marlins and I may have had a chance to see him throw, as the bullpen was close to the bleachers.
Joe now pitches for the Tampa Bay Rays, so I didn't get to see him.
Though the seats (aluminum benches) were not that comfortable, it is always interesting to watch a game from a different section.
And, I got this shot of the main seating area.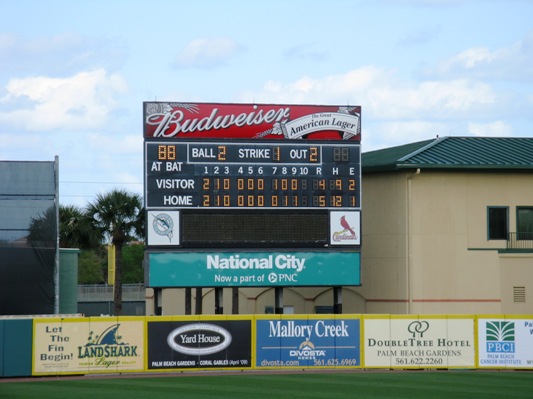 This game was the Orioles vs the Cardinals. Cardinals (home team) won 5 - 4.