Champion Stadium
Disney Wide World of Sports
700 Victory Way
Kissimmee, FL 34747


Dates Visted: March 24 and 26, 2009
Customer Service: Pretty good. Staff smiled and said hello. Vendors didn't yell or scream. There was a thorough bag search (more so than at other stadiums this trip) but even the gentleman who did that was okay.
Music/Announcer: Music was too loud and, as usual, was played while announcing starting line ups :(
Ease of getting in/out: One game was horrendous; the other was smooth sailing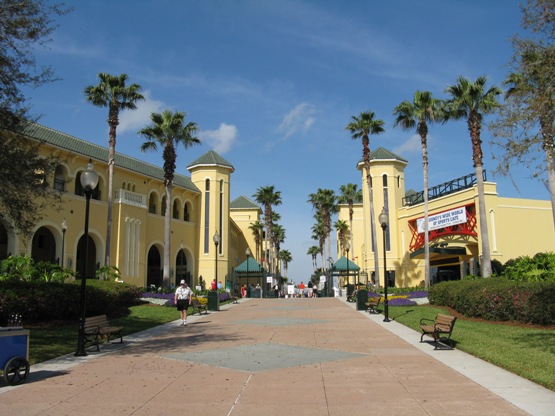 This is the walkway up to the stadium and the sports complex. The Disney Wide World of Sports complex not only houses Champion Stadium but many other baseball, lacrosse, volleyball, soccer, basketball, and other venues. It was a pretty impressive sports complex.

It was very 'Disney like' as shown here by the architechure and the flowers and landscaping.






This is the main entranceway into the stadium.

To the left is the walkway mentioned above; to the right is an 'alley' which had a variety of different food vendors.

All was pristine and clean.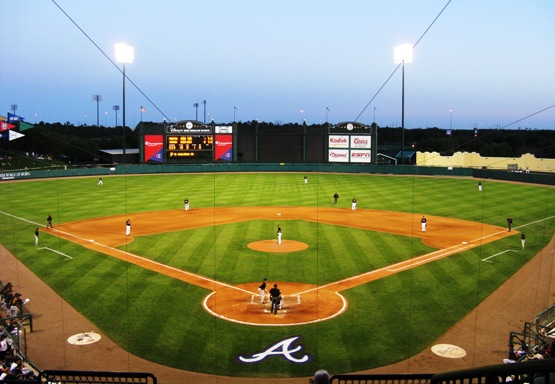 Here's the field.

I did have seats directly behind homeplate, 2nd level - first row.
One of the games I attended, the Braves were playing the Blue Jays.
The Canadian flag was flown and the Canadian National Anthem was played.
Nicely done.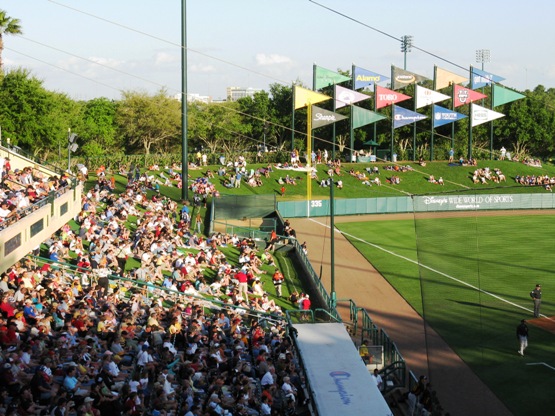 Third base side of infield and seating area.

In left and left center field, you can see the lawn seating at this stadium.
This night was quite full.

The flags beyond the left field lawn area all contain the names of the sponsors.




The world famous Atlanta Braves Philharmonic Saxaphone Jazz Quartet.

They entertained the crowd before the game by playing along the walkway.

They also played between some innings and played the National Anthem in the 7th inning.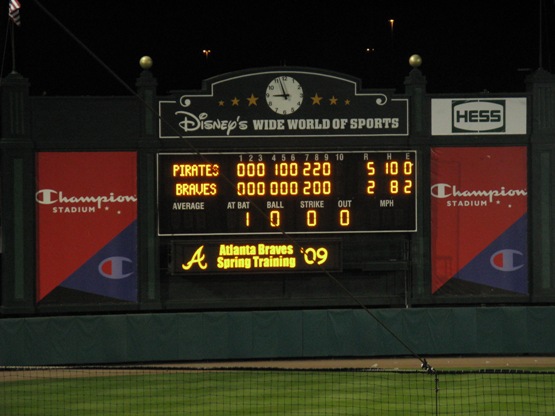 Pittsburgh beat the Braves 5 - 2 this game.

The Braves didn't fare too well on the other game I went to. They lost to the Blue Jays 7 - 5.



Other notes on attending games here:

* Free parking
* Donald Duck escorted San Antonio Holmes and Ike Taylor from the Pittsburgh Steelers to throw out the first pitch
* Real organ music - Musicale Mark is the organist
* They did not announce fielding changes