Dates Visited: 9/3 and 9/4/2011
Customer Service: Excellent
Ease of Getting In/Out: Below Average
Announcer/Music Level: Just fine - not irritating
Personal Notes: I know most people find this stadium to be one of the worst in MLB. IMO, the stadium was okay/functional (definitely built more for football than baseball). My game experience here was absolutely fantastic. Superb customer service, I was allowed to stroll to and in most areas of the stadium, wonderfully wide concourses with tables/benches to wait out an hour and 45 min rain delay, a DJ entertaining fans during rain delay.
Beer vendors were great and entertaining during the game and during the rain delay. Smiled, had some marketing spiels, and worked well with each other. Nice to witness.
All that said, continue to read notes below.
Definitely built/shaped for football. I stayed at a hotel about 1 mile from the stadium (their website had stated it was 1/2 mile). So I hoofed it. The walk was OK during the day; wouldn't recommend it at night. Walking is on a busy highway but there are sidewalks. It is in what I would consider an 'iffy' neighborhood. Pedestrians do NOT get the right of way in FL – in fact – they get yelled at even when the pedestrian walk sign is lit.
I did cause a taxi cab yelling match on the one night. I didn't want to walk back to the hotel at midnight by myself (game ended after 11:30pm). Apparently, the hotel is too close for taxi drivers to make much money transporting fans. I was not a favorite amongst the taxi drivers that evening.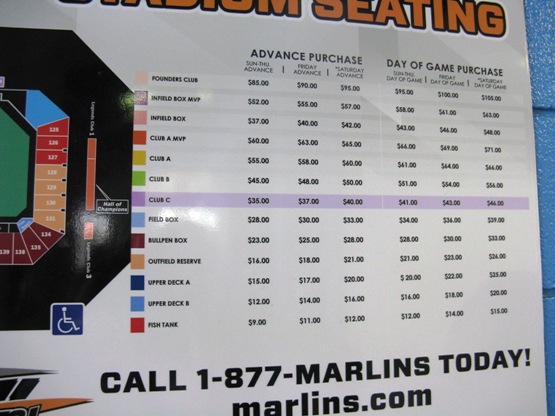 What happened to the basic bleachers, field box, second level, third level ticket prices?
Although the Marlins do a wonderful job graphing out the prices... when/why/how did it get so complicated?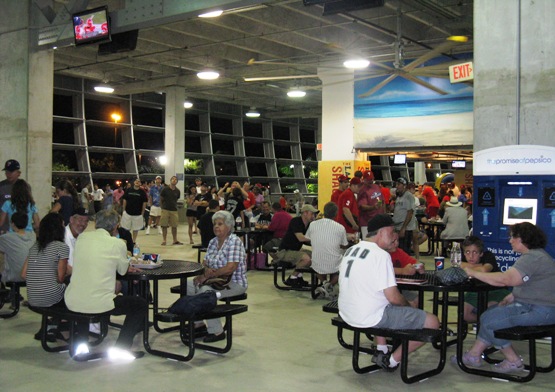 As mentioned previously, there was an hour and 45 minute rain delay. The game didn't start until close to 9pm.
The Marlins organization did a fantastic job keeping fans entertained during the delay. First of all there were nice wide concourses with benches, tables, and places to sit and watch the storm.
In the area behind this photo, the Marlins had a DJ where all kinds of folks were dancing and hollering. It was great!



I attended two games here (one of the final few before the new stadium opens in 2012 in Miami). The opposition was the Philadelphia Phillies. There were not a lot of fans – just as many Phillies fans as Marlins.
In general, Marlins fans were more respectful to other fans and the game of baseball; however, Phillies fans were definitely more passionate about their team but not necessarily the game of baseball and other folks watching the same game.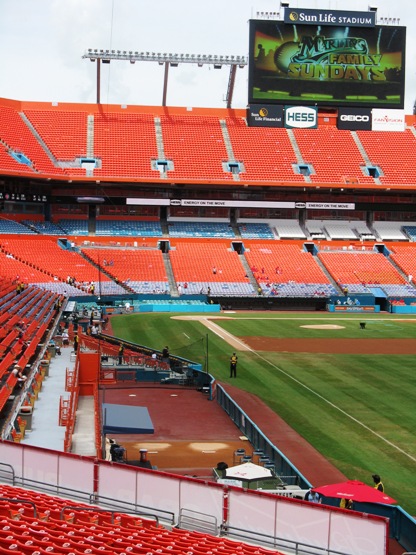 The bullpens are located on both the first base and third base lines.
There are two huge scoreboards (probably mostly used for football games): one behind the third base side shown here) and one beyond the right field stands.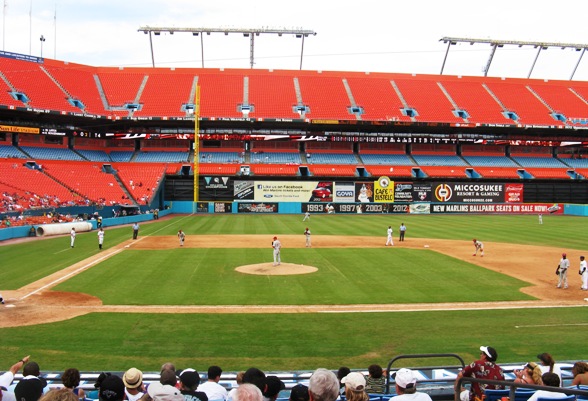 Lots of orange. There was no out-of–town scoreboard but scores were displayed on the ribbon banner throughout the game.
I was drenched both games: the first one from the rain first, then humidity; the second one from sweaty humidity, then rain. Note: One needs at least two t-shirts a day when going to Miami.

Additional Comments: After I had walked the mile to the stadium, I was waiting around for the gates to open and the announcements started about what you can and cannot bring in. One was umbrellas which is a standard (like a clipboard and scorecard) in my backpack. "Uh, ohhh", I thought. "Hope this is not going to be like Lincoln." It wasn't. The guy at the security check said just place it on the inside of the backpack and don't take it out and use it. I could have used it that game with it starting 1 ½ hours late due to rain and it was raining the first two or three innings. But because the security person was so pleasant and thoughtful, I did not. And, it all ended well (except for the taxis). I'll have to lookup why umbrellas are not allowed in some stadiums. That seems so weird to me.
The Marlins have a good organization and a good team. I'm hoping the fans show up at their new stadium in 2012.