Pittsburgh, PA
Things I liked about Pittsburgh
Public transportation (there was no need to rent a car)
Folks were proud to be Pittsburghers and were eager to share their city with visitors
PNC Park (more on that below)
Definitely a sports town. It was great how the city got together to support the Penguins at the time I went.
Links/Other Things to See and Do
Pirates Website
Heinz Museum
Visit Pittsburgh
Pittsburgh Penguins
Getting Around Pittsburgh

<<>><<>><<>><<>><<>><<>><<>><<>><<>><<>><<>><<>><<>><<>

Dates Visited: May 15 - 17, 2009

Hotel: Marriott Springhill

Customer Service: Very Good

Security Check: I still don't 'get' why one can't bring a full unsealed water bottle into a stadium. I really think a new 'train of thought' or philosophy needs to be established. Rather than thinking everyone is going to fill their water bottle up with vodka or gin or whatever; think they're bringing in water. Then deal with the exceptions. Who drinks vodka or gin at a ballgame anyway?


I had a wonderful time at PNC Park and in Pittsburgh. I met Bob, "Pittsburgh's Unofficial Goodwill Ambassador at PNC Park" and a leader/member of the Pittsburgh SABR chapter. I visited Legacy Square of PNC Park (more on that later). I toured Heinz Museum - a Pittsburgh history museum that includes a Pittsburgh Sports Museum. I was on TV. I slept, I ate, I drank, and I did NOT wake up to an alarm clock. I met Lloyd on the bus (quite nice conversation) and Scottt (he told me 3 t's) at the bar. I do believe he had had 3 t's too many by the time I met him.

I went to all three games. Rockies only won the one (Fri). It was a come from behind homerun by Brad Hawpe in the 9th. They lost on Sat (there was a 1 hour and 37 min rain delay in the 2nd inning). They got slaughtered on Sun. 10 runs in one inning. I've never been to a game like that.

One more hit and Todd Helton would reach his 2000th. At first I was disappointed he wasn't playing on Sunday because I wanted to see him hit 2000. But with the outcome of the game; I'm sure glad he didn't reach that milestone that day.

<<>><<>><<>><<>><<>><<>><<>><<>><<>><<>><<>><<>><<>><<>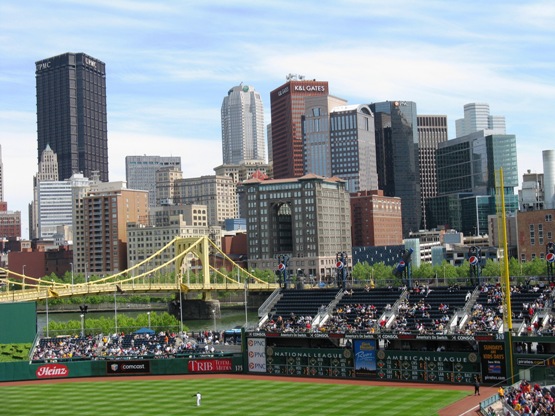 Here's the famous Pittsburgh skyline as well as the Roberto Clemente Bridge over the Allegheny River.
That's beautiful.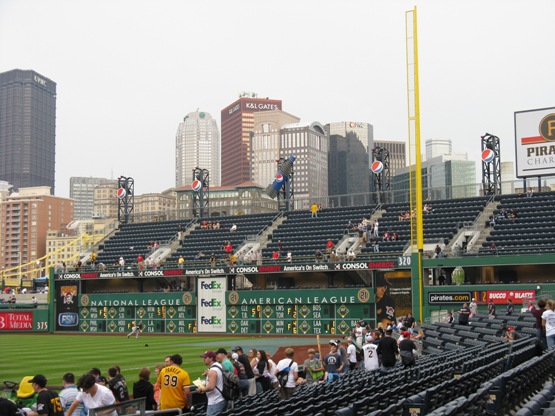 Here's a closer look at right field. The seats above the out of town scoreboard are 'All You Can Eat' seats. I believe for $35 you get the seat and then all you can eat and drink (soda; not alcohol).
You'll see the #21 retired on the out of town scoreboard (that's for Roberto Clemente) and the exact height of the wall in right field is 21 feet.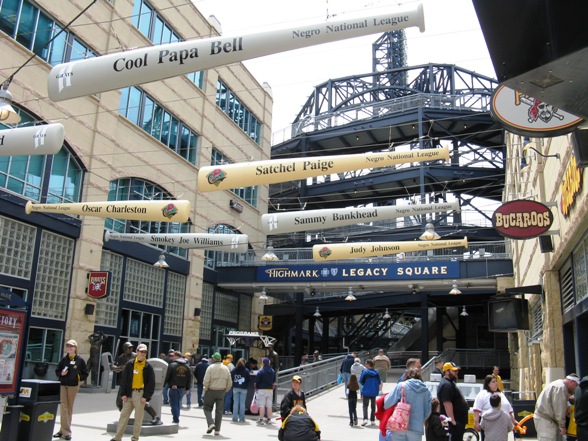 There are several entranceways into the ballpark. This one is known as Legacy Square.
Legacy Square honors the two Negro League teams that played in Pittsburgh: the Homestead Grays and the Pittsburgh Crawfords
It has a small movie theater that displays a film clip (narrated by Joe Morgan) on the two teams in Pittsburgh. The area has several statues of ballplayers who played for the Grays or Crawfords, as well as kiosks providing information on those players.
It wasn't till 1971 that MLB finally inducted players from the Negro League into the Hall of Fame.

I was quite impressed with this entranceway.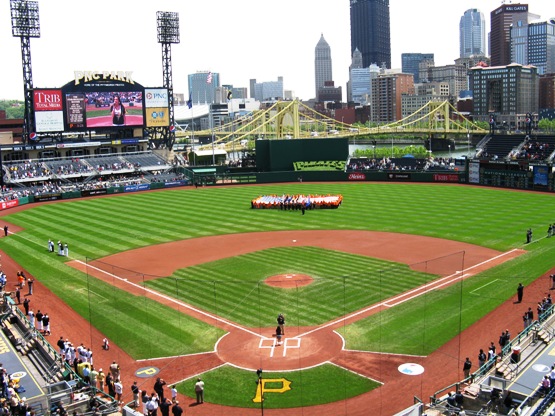 Here's the view from the second level, behind homeplate. These were nice seats.
Another beautiful view.
I was sitting here during a game where the Rockies gave up 10 runs in one inning. I was sitting next to a cameraman. He filmed my scorecard (and all those colored in diamonds) and me and I was on TV.





This park is one of the few that have the bullpens 'stacked' in the outfield.
The Pirates bullpen is the one in the back (with the covered seating). The visitor's is in the front (with the folding chairs and no cover).
The notch in left center where the bullpens jut into the field at the 410 mark .... It is known as the North Side Notch. The "north side" is that part of town across the Allegheny from downtown.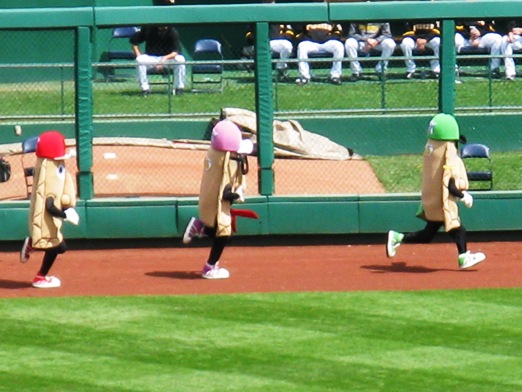 And, finally.... the pierogie race.

Green was my favorite. She had a really cool, lime green handbag that matched her cap.






Home


Posted: May 22, 2009
Email: mminard@comcast.net