Hi Corbett Field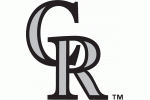 Notes:
This is the last season the Rockies will have their spring training in Tucson. They are moving to the Phoenix area starting the 2011 season.
Excellent customer service
Got my first MLB baseball
Was my least favorite stadium this trip
Metal bleachers with backs
They played 'noise' and music between pitches. Quite annoying.
Nothing special on the food side but they did have Killian's beer
Free parking
Related Links:
Cactus League
Colorado Rockies
Pima Air and Space Museum
Reid Park Zoo

Hi Corbett Field
Spring Training Facility of the Colorado Rockies
3400 E. Camino Campestre
Tucson, AZ 85716
Dates Visited: March 12 and 14, 2010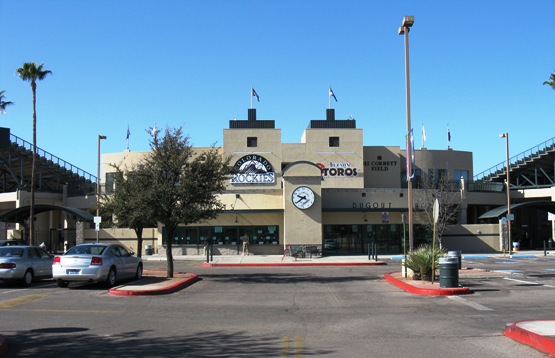 Entrance way to Hi Corbett Field. I like the clock.
There were benches one could sit on to rest and wait for the gates to open. I chatted with a nice gentleman here. I saw him later inside and he gave me a baseball he had found near his seat. Very nice. Thank you, gentleman.
The Tucson Toros of the Golden Baseball League play here in the spring and summer.
There's talk of having Japanese spring training here in the future.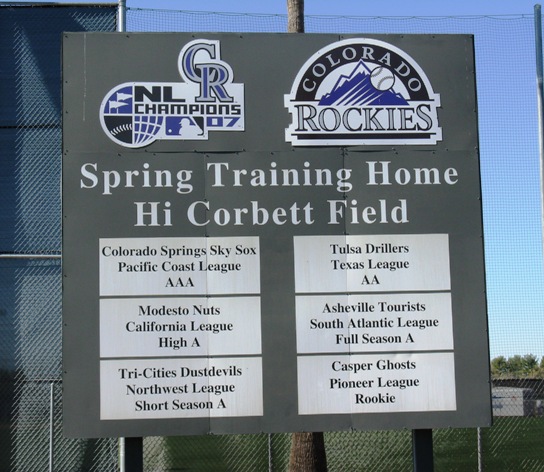 This was posted on the outside of Hi Corbett Field. I hope they bring this to their new spring training facility next year. It's nice to see a listing of all the affiliates.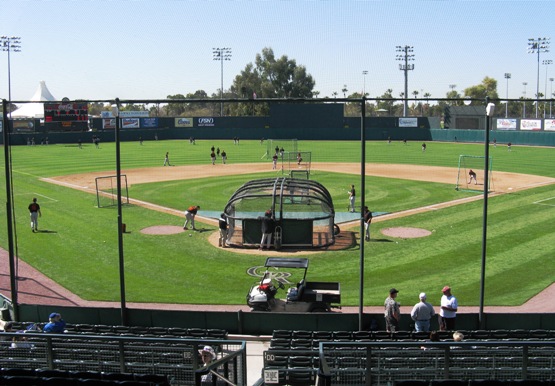 Here's the field, taken during batting practice.
Beyond the left field wall is Reid Park Zoo. You can see a white tip of a structure behind the scoreboard that's a part of the zoo.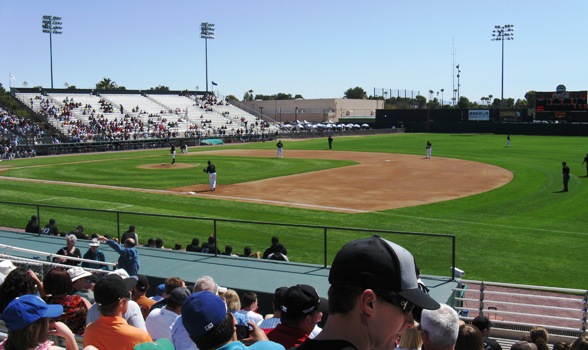 The first game I went to here, I was in this same section but in row 2. Needless to say, there was way too much activity in front of me: people walking by during play, Dinger stopping and getting his photo taken with some kids blocking view of the game for me. And, I had to watch the game through that net on the top of the dugout.

The Rockies organization has such good customer service. Even though I had bought the same seat for the next game; they pleasantly and willingly allowed me to exchange it for this one.

So, I was a happy camper for game two.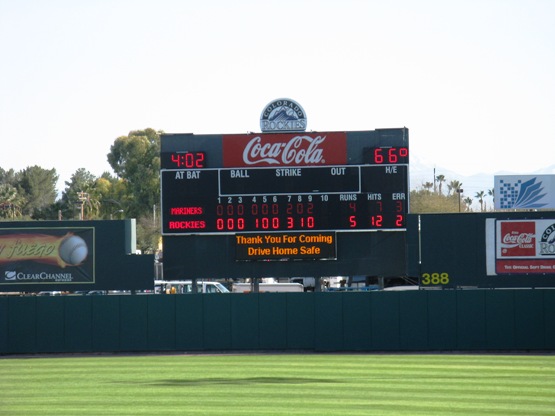 The Rockies won this one.
Ubaldo Jimenez had strong 4 scoreless innings.
Game time was just under 3 hours.
It was 66 degrees and sunny. A perfect day.






Todd Helton
At the end of the 2009 season:
1812 games played
6506 at bats
2134 hits
509 doubles
1202 RBIs
.328 batting averge
Husband, Father of two
AND, he can levitate a bat

Priceless!


Home Page

Arizona Page