Petco Park

Basics
Date Visited: Labor Day Weekend 2008
Customer Service: Excellent
Ease of Getting In/Out: Excellent - take the trolley!
Radio Announcer: Good
Music Level/Usage: Excellent! Not a whole lot of noise/music. More MLB teams should do that.
Things To See and Do in San Diego
San Diego Padres Official Website
Old Town Trolley Tours
San Diego Trolley
Gaslamp District

Personal Notes:

Things I liked
* Customer Service
* Nice wide concourses
* Landscaping
* Jeff Francis wearing hi-socks
* Superb music level
* Saw Will Venable in his first ML at-bat. He got a triple and then scored on a wild pitch. A game later, he got his first ML RBI

Things I didn't like
* The prices
* Security check to get in ballpark
* Bridges one must walk across to get to seating area on the 3rd level
* The prices
Things that were different/unique
* Park - Park in the park
* Beach
* Evacuation plan film clip


Photos: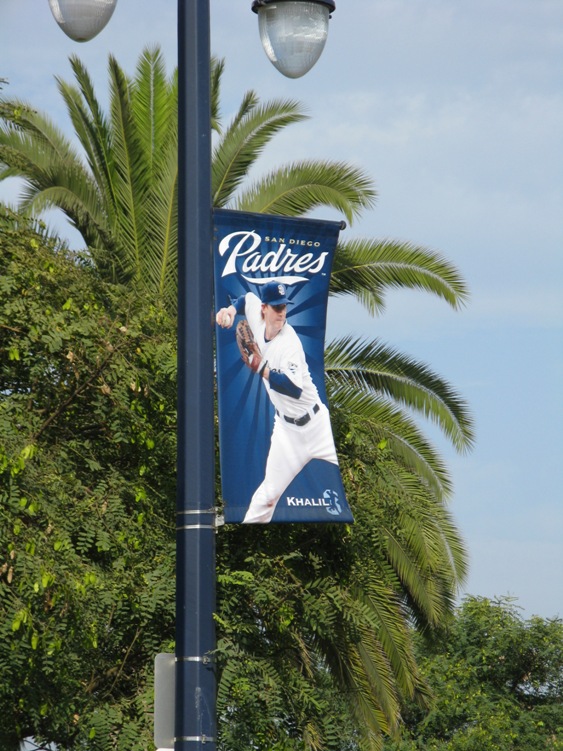 There were banners throughout the stadium identifying Padres players. This one is Khalil Greene's.

Most of the park is beautifully landscaped with palm trees, flowers, and foliage. This photo shows just a small piece of that wonderful landscaping.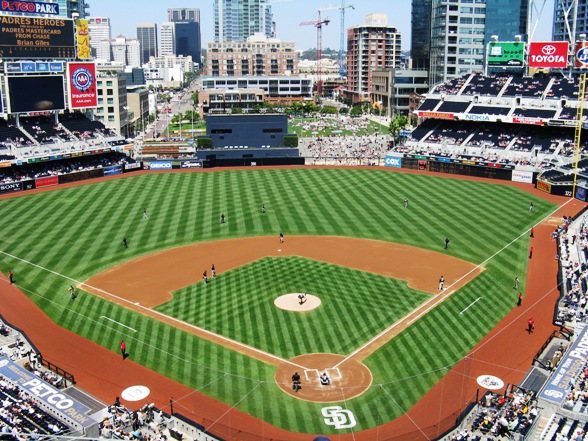 Here's the field from the 3rd level (where I sat). Out in center field is a park area. Folks can bring their blankets and watch the game from there.

You can tell the park is in the downtown area seeing all the office buildings and condominiums beyond the park. The park is a part of the famous Gaslamp District.

The one common item on a typical field not on this one is the tarp. There have only been two rainouts in Petco Park's history. They do have one....it's just under the seats, not on the field.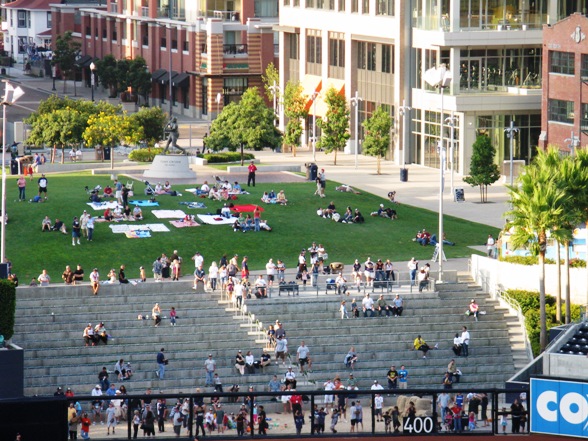 Here's a closer photo of the park beyond center field.

The statue in the background is the famous Tony Gwynn. In front of the bleachers is a 'beach'. There's sand there where kids can play like they're at the beach while parents can watch the game and them at the same time.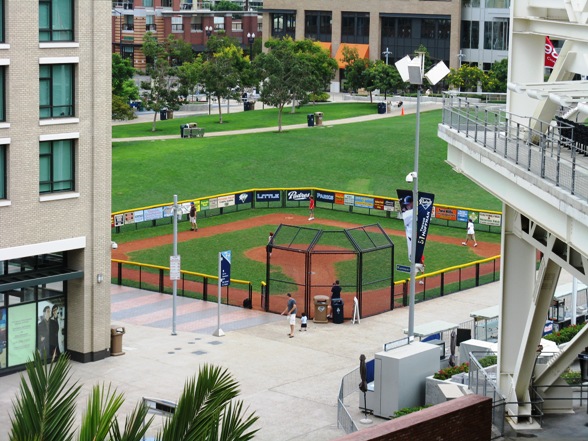 Part of the park-like setting in the outfield is a park in a park. This field is for kids to play the game (can't remember if it's baseball, softball, or wiffle ball). It is not only open during a game but during the day. There's a park member who will provide balls and bats for kids to use.

And there were contests between innings out there, televised on the video display for fans to watch.

You can see two more of those banners in this photo.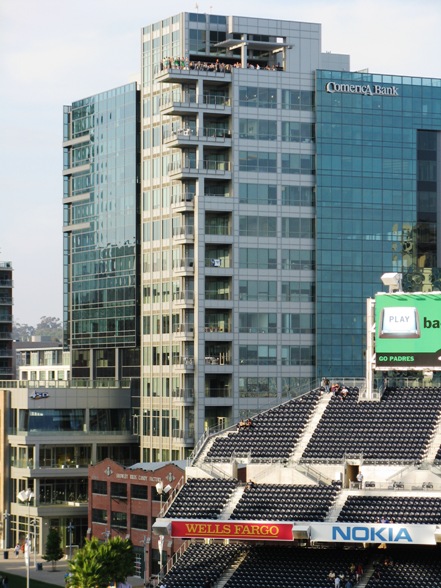 Before one of the games started, a group of individuals attended a party on the top level patio of the Comerica Bank building beyond center/right field.

That's a little too high for my liking.







And, finally, every Sunday home game is military day. It was Marine day today. I actually got quite moved watching these individuals as they took their seats.

A fine job the Padres provide by giving these folks an opportunity to see a game and for fans to show their respect and appreciation to those individuals. Kudos to the Padres!






Home Page

California Page


Email me: mminard@comcast.net



Posted: 10/14/08